Mobile Legends is a game that has many features in it. One of them is the Hero Fragment Shop feature, which in this feature Moonton presents various heroes that you can get for free.
Hero Fragment Shop is one of the Shop features in Mobile Legends. In this feature, you can get a hero for free by exchanging 120x Hero Fragments. Now for every latest update, there will be a hero rotation in the following Hero Fragment Shop, now starting September 23, 2021, here is a list of heroes that will be available.
On this occasion we will discuss the series of Fragment heroes that will be present on 23 September 2021. Then. What heroes can you buy using 120x Hero Fragments in the Hero Fragment Shop? Here's the review.
Update Hero Fragment Shop ML 23 September 2021 Mobile Legends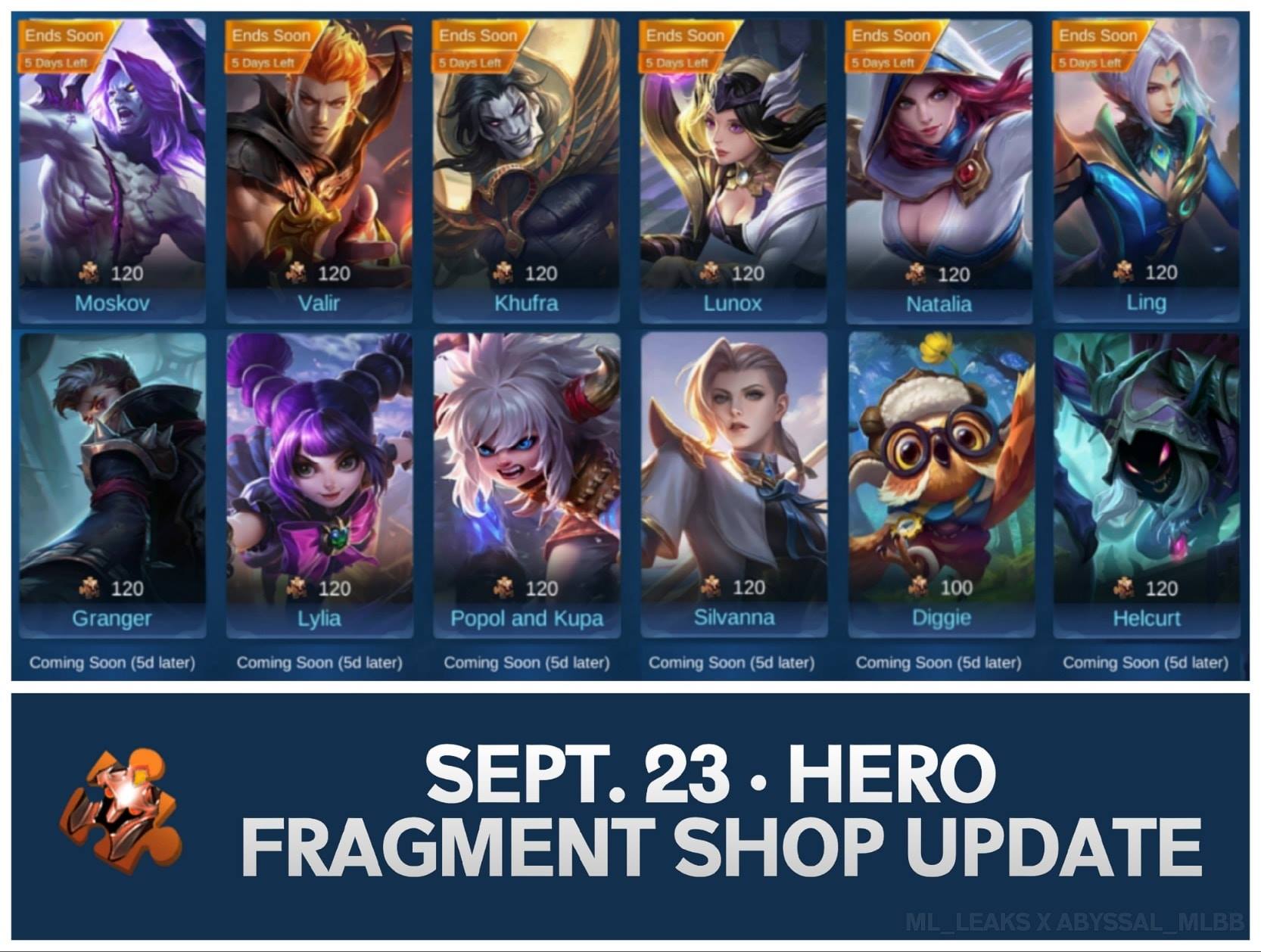 Every few months Moonton always rotates or refreshes the contents of the list of heroes that you can buy at the Hero Fragment Shop. So starting September 23, 2021. The following is the hero update that you can get by exchanging 120 Hero Fragments in Mobile Legends.
Hero Not Available
Moskov
Valir
Khufra
Lunox
Natala
Ling
Available Heroes
Granger
Lylia
Popol and Kupa
Silvanna
Diggie
Helcurt
Quite interesting from the list of heroes above. Which list of heroes that existed before is a line of meta heroes, especially in season 17 yesterday. Which, starting from the hero Khufra, Ling, Natalia and also Valir are meta heroes in season 17 of Mobile Legends. The line of heroes dominates the season's meta.
Now after 23 September 2021, various other new heroes will be present, including the heroes Granger, Popol and Kupa, Silvanna, Diggie and Helcurt. It looks like Moonton is trying to present a meta hero in the hero fragment shop.
Because there are several heroes who get the latest buffs and skins in Mobile Legends. For example, Granger who will get a skin at the Epic Showcase event in October 2021 tomorrow, as well as other heroes like Silvanna who is the hero who gets the latest starlight skin in October 2021.
Now to get a free hero at the Hero Fragment Shop, you can exchange it by using a hero fragment of 120 times per hero.
As for getting your own hero fragment, it's quite easy. You can get it through events that are present in Mobile Legends, as well as several other ways, such as doing lucky draw, and others.
So that's the latest information about the fragment shop hero update on 23 September 2021 in Mobile Legends. Hopefully the presence of the reviews above can be useful especially for those of you who are Mobile Legends gamers.
Don't forget to follow our official Instagram at @ esports.ku and keep visiting our website for the latest interesting information. Stay Tune!